Hayes Moderation Results Section In A Research Paper Example
Please, wait while we are validating your browser
Introduction to Mediation, Moderation, and Conditional
Process Analysis: A Regression-Based Approach
Second Edition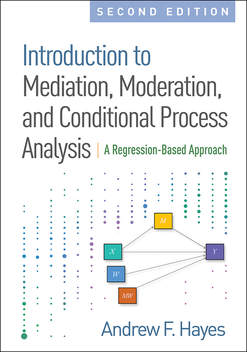 Introduction to Mediation, Moderation, and Conditional Process Analysis describes the foundation of mediation and moderation analysis as well as their analytical integration in the form of "conditional process analysis", with a focus on PROCESS version 3 for SPSS and SAS (#processmacro) as the tool for implementing the methods discussed. Available as both an e-book and in print form, it is published by The Guilford Press in their Methodology in the Social Sciences series.

Visit Guilford Press to view the table of contents, read reviews, and pre-order. This book will be released in December 2017.


Click here to download the data files used in the second edition.

If you are looking for the files used in the first edition, click here. The first edition of this book is now out of print. Here is an errata document for the first edition.

---
---
Go to processmacro.org to download PROCESS for SPSS and SAS and its associated files.

Take a workshop from me in 2018 on the topic of this book in St. Gallen, Switzerland, or Chicago, Illinois, USA.

What's new in the 2nd edition?

This new edition is about 200 pages longer than the first edition released in 2013. The additional length includes several new chapters, another appendix, and a variety of new sections dispersed throughout the book. In addition, some sections of chapters from the first edition were reorganized or relocated to different chapters. Perhaps most significantly, examples of analyses using PROCESS have been modified to reflect changes to the syntax and features with the release of PROCESS version 3 with this book. Below is a nonexhaustive list of the some of changes in this edition:

• A condensed regression analysis review in Chapter 2 (shortened from two chapters).
• Annotated PROCESS outputs throughout the book to make it easier to find relevant sections of output corresponding to discussion in the book.
• A substantially rewritten Appendix A to reflect changes to the syntax, options, and defaults in PROCESS version 3 compared to version 2.
• Modified conceptual diagrams in the templates section of Appendix A, along with the addition of 13 new preprogrammed models to PROCESS that combine serial and parallel mediation and that estimate moderated serial mediation models.
• A new Appendix B describing how to create models in PROCESS from scratch as well as how to edit preprogrammed, numbered models.
• A new real-data example from an experimental study published in 2016 by Chapman and Lickel (2016) and used in Chapters 7, 8, and 12.
• R code in several chapters for visualizing interactions, Johnson-Neyman plots, and plots of the relationship between indirect effects and moderators.
• A new section on models that combine parallel and serial mediation (section 5.5).
• A change in the discussion of effect size measures in mediation analysis corresponding to those now available in PROCESS output (section 4.3).
• A new chapter on mediation analysis with a multicategorical antecedent variable (Chapter 6).
• A new section on the difference between testing for interaction and probing an interaction (section 7.5).
• A new section on the dangers of manually centering and standardizing variables (section 9.3).
• A new section on testing the difference between conditional effects in models with more than one moderator (section 9.5).
• A new chapter on moderation analysis with multicategorical antecedent or moderator variables (Chapter 10).
• A new focus in the chapters on conditional process analysis on a formal test of moderation of an indirect effect using the index of moderated mediation (Hayes, 2015).
• A new chapter on conditional process analysis with a multicategorical antecedent variable (Chapter 13).
• An expanded final chapter on miscellaneous issues and frequently asked questions, including some guidance on the analysis of repeated measures data and references to consult when modeling variables that are discrete and better analyzed with something other than ordinary least squares regression.
New to SPSS syntax? Do you want to teach or emphasize the use of SPSS syntax in your classroom? Download my free "Using SPSS: A Little Syntax Guide"


---
---
Some of my related work that might interest you:

Hayes, A. F. (2018). Partial, conditional, and moderated moderated mediation: Quantification, inference, and interpretation. Communication Monographs, 85, 4-40.[PDF]

---
---

Hayes, A. F., & Rockwood, N. J. (2017). Regression-based statistical mediation and moderation analysis in clinical research: Observations, recommendations, and implementation. Behaviour Research and Therapy, 98, 39-57. [PDF]

---
---

Hayes, A. F., & Montoya, A. K. (2017). A tutorial on testing, visualizing, and probing an interaction involving a multicategorical variable in linear regression analysis. Communication Methods and Measures, 11, 1-30 [PDF]

---
---

Hayes, A. F., Montoya, A. K., & Rockwood, N. J. (2017). Examining mechanisms and their contingencies: PROCESS versus structural equation modeling.Australasian Marketing Journal, 25, 76-81.[PDF]

---
---

Montoya, A. K., & Hayes, A. F. (2017). Two-condition within-participant statistical mediation analysis: A path-analytic framework. Psychological Methods, 22, 6-27. [PDF]

---
---

---
---

Hayes, A. F., & Agler, R. A. (2014). On the standard error of the difference between independent regression coefficients in moderation analysis. Multiple Linear Regression Viewpoints, 40 (2), 16-27.[PDF] or [email me for a copy of article]
---
---

---
---

Hayes, A. F., & Scharkow, M. (2013). The relative trustworthiness of inferential tests of the indirect effect in statistical mediation analysis: Does method really matter? Psychological Science, 24, 1918-1927.[email me for a copy] DOI:10.1177/0956797613480187
---
---

[eHayes, A. F., & Preacher, K. J. (2013). Conditional process modeling: Using structural equation modeling to examine contingent causal processes. In G. R. Hancock and R. O. Mueller (Eds.) Structural equation modeling: A second course (2nd Ed). Charlotte, NC: Information Age Publishing [at the publisher's page][email me for a copy]

---
---

Hayes, A. F., & Preacher, K. J. (2010). Estimating and testing indirect effects in simple mediation models when the constituent paths are nonlinear. Multivariate Behavioral Research, 45, 627-660. DOI: 10.1080/00273171.2010.498290
---
---

[Hayes, A. F. (2009). Beyond Baron and Kenny: Statistical mediation analysis in the new millennium. Communication Monographs, 76, 408-420.[PDF]

---
---